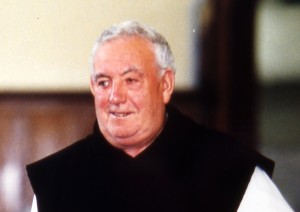 I was born in Dublin in the 1930s, the fourth of nine children, and it was a very different time to today. I had a brother who had joined the Dominicans and there were several people living around us at home who went away to be priests and brothers and nuns and these things made me think.
My parents were great people – my father was a real Christian man, he would give away his last penny and deprive himself for the sake of others and my mother was a great woman to pray. I had been over to England a few times to see my brother and I was thinking of joining a Religious Order myself, but I wasn't thinking of it all the time.
There was a group of us in work and we were planning to go to England for the summer holidays in 1950 but one after another all the lads pulled out as they had made other plans so there were just two of us left. There were women in the office and when they heard what happened they were making all kinds of suggestions as to where we should go for the holidays. One of them told us of this lovely monastery where we could go, with fields all around and we could bring our bikes and the best thing about it was that you didn't have to pay, just give a donation, so that suited us. The place she was thinking of was Mount Melleray Abbey in Co. Waterford.
When my father heard this he was delighted and he took on to write to the monastery to enquire if there was room for us but he addressed the letter to Mount Melleray Abbey, Roscrea! We got a letter back from Br Finbarr saying that he could accommodate us for three days and that we would be most welcome. Meanwhile my companion decided that he wasn't going and so I went off to Roscrea on my own, unaware that it wasn't the place that the woman in the office had intended at all. I came down to Roscrea on the train and I walked out to the monastery. There was a big crowd in the monastery guesthouse at that time, mostly older men, but a few fellows my own age too. The  whole place was a complete mystery to me – going down to Mass in the morning and coming up to breakfast and eating in silence – all I could think of was the Last Supper!
The monks in the guesthouse used to work really hard and I used to give Br Finbarr a hand, filling coal buckets and doing other odd jobs and I got chatting to him and asked him what it was like to be a monk. I always remember his reply "It's a great life if you have the vocation". Then he told me that he thought I'd make a perfect monk and that he would get a priest to talk to me. That worried me as I'd never really spoken to a priest.
The next morning a group of us were planning to walk out to the shop when Br Finbarr stopped me and told me that there was a priest coming up to see me. The priest turned out to be the Abbot, Dom Camillus. I was terrified and I didn't know what to say to him. He took me off for a walk around the grounds and we started chatting. I told him all about myself, all the good things, Rosary in the family, Legion of Mary, selling Catholic literature, made myself out to be a bit of a saint. Then he asked me straight out if I would like to be a monk. I didn't know what to say. He said I'd make a great monk and that he would see me again the next day.
I didn't know what to do. I was all mixed up and worried. I decided that when I met the Abbot the next day I'd tell him the real truth about me, that I was not as good as I made out the day before. So that's what I did. I told him about going to dances and going out with girls and that I had broken my pledge. And when I had told him all that he said he was delighted to hear it because after the previous day's conversation he was going to send me off to be canonised! Then he said that hearing this story made him all the more convinced that I had a vocation and that I should join the monks here in Mount St Joseph. He said he would get in touch with my Parish Priest and let me know.
It was very different to now. We didn't really talk about discernment in those days or a calling or vocation. I used to say my prayers and to be conscious of God all the same. I loved going cycling up towards the Dublin Mountains on my own and getting to quiet places and stop and think about creation and God and what did he want me to do. I was influenced, too, by things like the sight of the Capuchins in their habits or the priests at Mount Argus and I used to imagine myself in a habit. So I definitely had an attraction to the monastic life. I remember being really moved by the sight of the monks here going out to work.
I went back to Dublin and was working away. One evening when I came in from work my father and mother brought me into the front parlour. I didn't know what was up. I thought I was in some kind of trouble as my mother was upset. My father told me that the Parish Priest had called to the house that day and had told them that he had a letter from the Abbot in Roscrea about me joining the monastery. That was the first they heard of it as I had never told anyone about my conversations with the Abbot. My mother's concern was whether I really wanted to join. She would have preferred me to wait and experience a bit more of life but I told them that I loved the place and all the things about it that attracted me and why I wanted to join and so on. That was September. I had only been to Roscrea for the first time in August, and at the end of October I joined the monastery.
Saying goodbye to me family was really hard. When I was coming down on the train I was really nervous and kept looking out at every station to see if we were there yet. Then in Ballybrophy the train started going backwards and I was delighted as I thought we were heading back to Dublin! But it was just the change onto the branch line and the next station was Roscrea. I started walking out to the monastery and halfway out a car stopped – he was a taxi man, but it didn't know that at the time – and he took me the rest of the way. I got a big shock when I arrived – the place looked totally different at the end of October compared to August. All the leaves had fallen off the trees and the green grass was all gone. I decided there and then that I was going back to Dublin on the next train.
Before I even went into the guesthouse I went down the steps towards the Church and I met Fr Patrick who had a big welcome for me. He said "We thought you'd never come, we thought you'd changed your mind". I told him that I had, that I wanted to get the next train back to Dublin. Then I met Fr Finbarr who told me that the train was at half four but that I'd have to have my dinner before I left. After dinner he took me out for a walk and while we were out walking we heard the train passing. I had missed the last train that day so I had to stay that night. The custom then was that you spent three nights in the guesthouse before going into the monastery. The next day things were not so bad.
I joined the monastery on the 1st November 1950 and made profession sixty years ago, in May 1953. I can honestly say that I have been very happy here and love the monastic life. As Br Finbarr said to me on my first visit to Mount St Joseph "It's a great life if you have the vocation."