Seeking God in Prayer, Work & Community
What, dear brothers, is more delightful than this voice of the Lord calling to us? See how the Lord in his love shows us the way of life. RB PROL:XIX
Welcome. You may be interested in exploring your own vocation in life, or in finding out about the Cistercian way of life at Mount Saint Joseph Abbey. Like all Religious life, the Cistercian life is the response to a call from God.
We do not decide ourselves on such a vocation, it is a gift from God. We hope the following pages will be of help to you in your discernment process.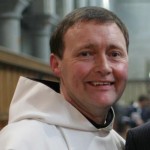 If you would like to learn more or talk to us please contact Br Malachy Thompson, Vocations Director, at vocations@msjroscrea.ie or via the contact page.