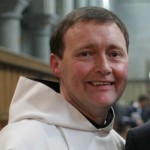 I have no 'Road to Damascus' type of experience to recount. Instead, my vocational journey was just a slow realisation over a long period of time that God was calling me to the monastic way of life in Mount St Joseph Abbey.
I was born on 3 July 1965. I grew up in what I could probably be described as a normal working class northside Dublin family. Religion would have played a part in family life, though not a major part. One of my earliest memories is of the large children's illustrated Bible that was in the house. We would go to Mass every Sunday and our parents would make sure we said our prayers at night as children. So religion was part of my life growing up, but in a limited way. We never prayed the Rosary together or such-like devotions. Until we reached our mid-teens my parents made sure we all went to Mass on Sundays; from then on we were encouraged but not forced to do so. I was quite bright academically and did very well in school, although I left after the Inter Cert to get a job.
After a couple of different jobs I started working for Kenilworth Products Ltd, a label-printing company which specialised in supplying the pharmaceutical industry in 1986. It was a working relationship that developed into a lucrative and long-lasting career for me. I remained with the company until I resigned as European Sales & Marketing Manager in 2006 to enter Mount Saint Joseph. In the eyes of many I had all the outward trappings of success – a large company car, travelling regularly to Europe and the U.K on business, dining out in expensive restaurants, etc.
Outside of work I had a large circle of close friends and was involved in a lot of different enterprises. I assisted a nun, who is a very dear friend of mine, in organising retreats for young adults. I was also involved with the Saint Vincent de Paul Society working out in Ballymun. I also did a lot of cycling and completed the maracycle, Dublin to Belfast and back a number of times, and also to Galway and back several times for charity, as well as cycling in Arizona for the Children's hospital in Crumlin. I was also a passionate Dublin GAA football supporter, travelling all over the country to support the 'Dubs.' So my life was quite full and I was very happy in my work and my social activities.
I had drifted away from the Church for a large part of my twenties, attending Mass irregularly and mostly for family events and occasions. At the same time, however, I never lost my belief and faith in God. In difficult times I always had a sense He was there for me, even though in many ways I had ceased to be a seriously practising Catholic.
It was in my early thirties that I started to take my faith seriously again. Everything was going well and I was very happy, but I just felt drawn back to Mass and prayer. It was not an immediate thing; just a very gentle pull on my heart drawing me back into a deep relationship with God.
Initially it was Mass on a Sunday, but in a very short space of time I was participating in the celebration of the Eucharist on a daily basis. I felt I was being drawn more and more to quiet time in prayer, sitting quietly, just being in the presence of God. It was around this time that I came across a leaflet in the Pro-Cathedral in Dublin advertising a monastic retreat in Mount Saint Joseph Abbey for young adults. I had never been to a monastery and knew nothing about the Cistercians, but for some reason I felt that it would be right for me. Travelling down late on the Friday evening I started to have some doubts about attending and even thought about turning around and going home. Thank God I continued on and arrived at Mount Saint Joseph for the first time late on a Friday night, after the office of Compline. I decided I would get up for the early morning Office of Vigils.
That first experience of the Divine Office was to make a lasting and life-changing impression on me. I can still see the old, grey-headed monk, carrying the lectionary above his head from the altar to the ambo to proclaim the gospel of the day. I was just awestruck by everything about the Divine Office, and as I remained in the silent Church in the early morning darkness with just the sanctuary light flickering, I dared to contemplate the idea of spending the rest of my life as a monk. I would, by chance, or more likely by providence, meet that same monk later that day. I was standing outside the guesthouse on my own, when he came along and asked was it my first time to visit the Abbey. He offered to give me a little tour around. Little did I know, as we strolled and chatted, that my monastic companion was Dom Laurence, who was then Abbot of the monastery.
These walks and chats were to become a feature of my visits to Mount Saint Joseph Abbey and greatly helped me to grow in my understanding of monastic spirituality and in particular the Cistercian monastic vocation. The liturgy greatly attracted me as a means of personal prayer. From the beginning I found it very easy to make the psalms my own and pray 'I have pondered over my ways and returned to your will.' It felt very natural for me to 'thank the Lord with all my heart,' or to say 'Amen' to the idea that 'great are the works of the Lord to be pondered by all who love him.'
By the time I became familiar with the Divine Office I was aware of my need for mercy and so found it very easy to pray: 'Have mercy on me, God in your kindness. In your compassion blot out my offence.' I still find that the liturgy of the hours provides a structure and discipline to the day which I find very helpful for maintaining mindfulness of God at all times.
Although almost immediately on that first morning I began to think about monastic vocation and all it entails, I did nothing about it for over two years. There were just too many reasons in my head why I shouldn't be a monk. I had a good and satisfying career; I had family commitments; I was very happy with my life; was I was too old at 35? Very devout people became monks, not Paul Thompson from Finglas. These and other reasons meant that for two or three years I kept my feelings to myself without talking about them to anyone in the monastery.
Finally, after some discussions with Dom Kevin, who was the Abbot at the time, it was agreed that I would do a 'live-in,' where I would live with the community for a month, following the life of a monk in every way, without wearing the habit. I did my 'live-in' during the month of August 2005. It was a wonderful experience; I loved the life and got on well with all the community. But I still kept asking myself the question: 'Is it truly God's will for me that I enter Mount Saint Joseph as a community member?' I knew I could live the life, and be happy living the life. But was this truly God's will for me?
I went on Pilgrimage to the Holy Land to pray about it. One day while praying in the Holy Sepulchre Church, I just knew it was God's will that I enter. I spoke with the Abbot, who after discussion with his council agreed that I could enter Mount Saint Joseph Abbey as a postulant. I received the phone call from Dom Laurence on the morning of Friday 10 February 2006. I left the office; drove down to St Peter's Church in Phibsborough and spent some time there in quite prayer thanking God. I remember my feelings of ecstatic joy but also the realisation of the monumental life-changing journey I was beginning. But I also knew in my heart that God, who had brought me this far on the journey, would carry me further if I placed all my trust in Him. And so it was. I handed in my notice with the company I had worked for over a period of twenty years and planned to leave it all behind and enter Mount St Joseph Abbey as a postulant.
I am often asked why I chose to join the Cistercians. It is understandable that many young people looking at our cloistered way of life, renunciation of our possessions, separation from the world, obedience, manual labour, celibacy, and frequent liturgical prayer services, together with Mass, might wonder how a person can decide to enter a monastery. I can certainly say that the silence, solitude and the simplicity of the life attracted me, but I honestly believe that God chose not only the Order but even the monastery for me. I never once seriously considered anywhere else. I always felt that if I were to enter religious life it would only be as a monk of Mount St Joseph Abbey. I did visit some other monasteries, but although I found their liturgies pleasing and the communities' friendly, they made me appreciate Mount St Joseph even more.
On reflection, I truly believe that not only was it God's will that I enter Mount St Joseph Abbey, but also that I did so at that particular time in my life, and not a year earlier or a year later. When I look back I can map out many providential moments where God, through events or persons, steered me and supported me on my journey to Mount Saint Joseph and also on my journey since I entered. I also have total trust in God as I continue on my monastic journey.
It is now nearly two years since I made Solemn Profession as a monk of the Cistercian Order and I still look back on it as it one of the most wonderful days of my life. The whole community aspect of monastic profession makes it an extremely emotional event. I don't even know where tobegin to try and describe how I felt on the day. Even if I were a trained orator I don't think I could express the inner feeling of peace, joy and fulfillment that welled up within me on that day. Indeed, I believe words are inadequate to express the love of God enflaming one's heart during such a ceremony. The whole day was just immense and at times I felt I might be overcome with happiness. I could not have asked for a better day or even wished for better. There are just so many very special memories which I will always cherish. It was also a very grace-filled day and I truly believe that God in His love strengthens one for the road ahead, so that one can joyfully and patiently carry the crosses that will come your way; and we all know they do. God provides the graces needed to live this life faithfully and happily.
The monastic life has given me a new life full of happiness and a deep sense of peace. The life has totally exceeded all my expectations and dreams. Living with others who value the same expression of faith in a common life together has been important for fostering my desire to know and experience God's love more deeply. Community life offers encouragement and support on the path of discipleship, and provides many opportunities to serve my brothers with my talents and my weaknesses.
I especially appreciate the quiet hours before dawn for spiritual reading, praying with and meditating on the Scriptures. This encounter with God's written Word helps me to be more open to coming closer to God as he reveals Himself in all my daily activities. Whether I am out working in the enclosure or in the library, I hope that I may learn, as St. Paul says, to 'Rejoice always, pray constantly, give thanks in all circumstances;' because I do believe that living the life of a contemplative monk here in Mount St Joseph Abbey is as Paul says 'the will of God in Christ Jesus for me.' (1 Thess. 5:16-18). I look to the future joyfully and positively, confident that God will provide labourers for his vineyard in Mount St Joseph Abbey.