LUMEN CHRISTI
Your August 2015
Light from the Monastery
20th August – SAINT BERNARD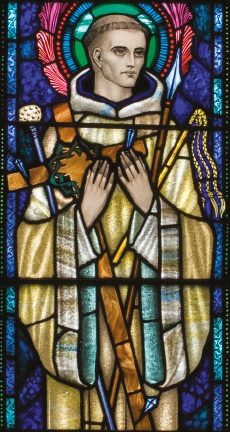 In 1112 Bernard of Fontaines, with 30 companions entered the recently founded struggling Abbey of Citeaux in Burgundy.  He was soon to become the founding Abbot of Clairvaux, and in time the great light of the Cistercian Order. 
Bernard is attributed with the founding of 68 monasteries – including Mellifont in Co. Louth, which he did in 1142, hand in hand with St Malachy of Armagh. 
In this Harry Clarke Studio window of 1942 from the College Chapel, St Bernard is robed in the cream cowl of the Order.  His tonsure is that of the monks of the 1940's.  This is the young Bernard whose words, whose personality, whose spirituality influenced so many in the Europe of the twelfth century.  He holds to his heart the instruments of Christ's Passion – the cross, the crown of thorns, the scourge, the sponge, the lance and the nails driven into the timber of the cross, symbols with which he is often depicted in art, suggesting his deep contemplation of the Passion and Death of Christ.  His ascetic face is that of a visionary, one with determination, tempered with gentleness. 
When God loves he wishes only to be loved in return
St Bernard, 83rd Sermon on the Song of Songs